Artur Beterbiev came out on top of a firefight with Britain's Anthony Yarde to retain his WBO, WBC and IBF light-heavyweight world titles in London.
Both men fought brilliantly in a back-and-forth epic over eight rounds.
Yarde hurt Beterbiev in an astonishing fifth round, but was then pulled out of the fight in the eighth after being knocked down by a powerful right hand.
Russian Beterbiev kept his 100% knockout record, while Yarde's wait for world honors goes on.
"I could say it was a bad fight but I'm sitting here," Beterbiev told BT Sport.
"Everyone in this division can punch and Anthony can too. He's young and he has time and I hope he does well in the future.
"If I'm honest, I was prepared for all of those punches and that's why I could keep coming back at him."
Yarde edged out in epic
Yarde was a huge underdog going into the contest, but will see his stock rise rapidly after an impressive performance many might have thought beyond him.
A potential win for the 31-year-old Londoner was being compared to some of the biggest upsets on British soil but the stage was certainly set for a classic as Yarde, dressed in white shorts with gold trim, was given a hero's welcome by the OVO Arena in Wembley.
Despite being the defending champion, Beterbiev made a lightning-quick entrance and was booed heavily as he did.
The first round was skittish for long stretches with Yarde clearly wary of the 38-year-old Russian's renowned power which had yielded 18 knockouts from 18 fights.
But it was the Briton who landed first with a lovely counter left hook which pushed Beterbiev backwards.
"Fight this guy" was the shout from Beterbiev's corner and the unified champion tried to oblige, surging forward whenever he could.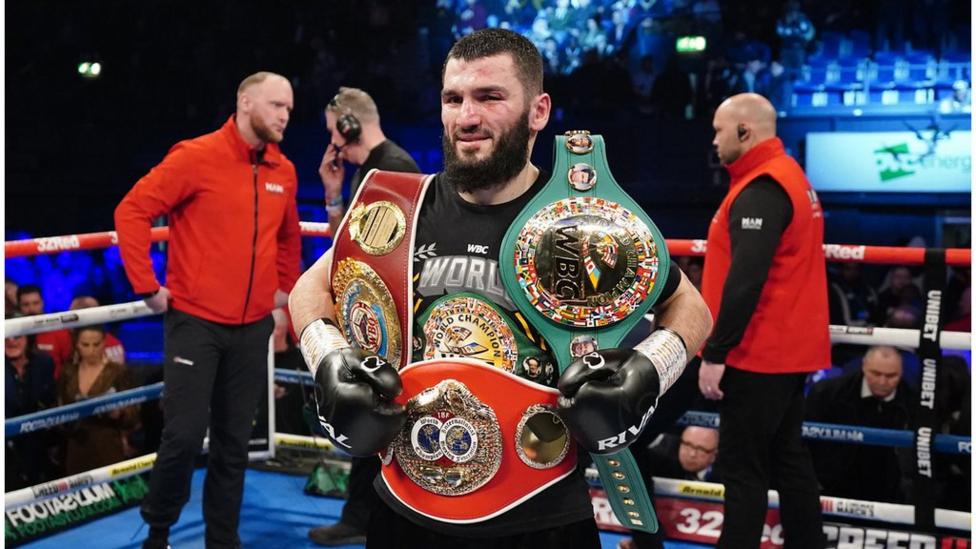 Beterbiev's face was reddened in the second thanks to Yarde's excellent countering and when the Russian landed a sweet right hand, his opponent immediately responded with another left hook.
Yarde was then forced to fight his way out of the corner after Beterbiev did magnificently to close the distance, a feat he achieved throughout the fight.
The crowd, however, were firmly on Yarde's side and every one of his shots drew a huge roar.
A strong uppercut from Yarde caught the eye, but Beterbiev continued to step forward, undeterred.
There was no rest for Yarde and he was stunned several times in the fourth round as Beterbiev stepped up the pace.
A firefight then broke out in the fifth as Yarde landed a massive right hand flush on Beterbiev.
The crowd were on their feet baying for a finish with Beterbiev clearly hurt but the Russian threw himself into the arms of Yarde to gain a few vital seconds of recovery.
Yarde poured forward in a bid to end the fight but Beterbiev fought back in kind and unleashed a flurry of punches, leaving his rival swaying on his feet as the bell arrived.
There was now blood coming from the left eye of Beterbiev while Yarde's was swelling with each passing second.
Yarde tried to replicate the shot that had wobbled Beterbiev by going over the champion's jab in the sixth, but this time his opponent was wise to the attack.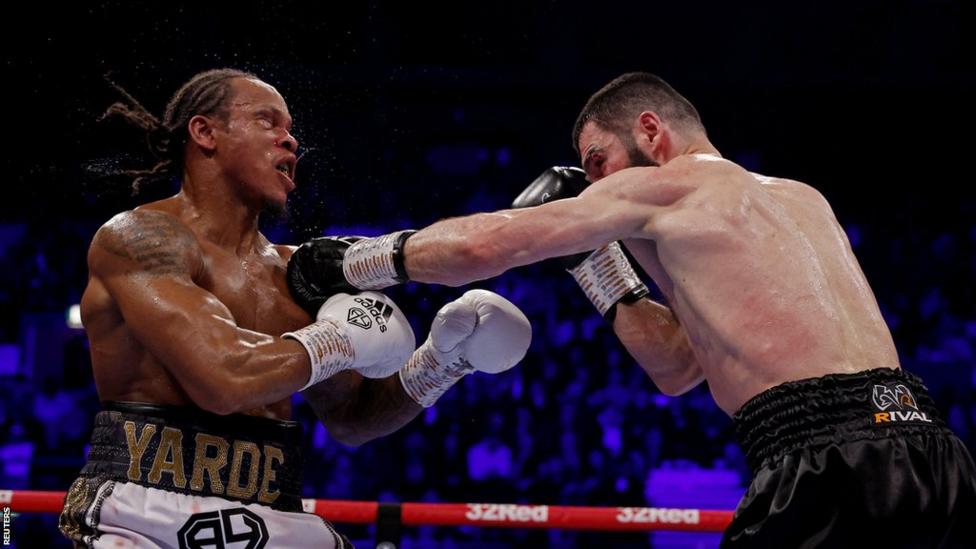 The seventh round produced more stunning action as once again Yarde stepped forward and seemingly hurt Beterbiev.
But Beterbiev circled away from danger and masterfully turned the British fighter to trap him in the corner, where he then unloaded and a dazed Yarde could only stand his ground.
Yarde appeared on the verge of going down, but stayed on his feet and eventually was able to escape and see out the round.
The eighth round saw the final shots of an incredible fight. A tiring Yarde reached for a left uppercut, but Beterbiev read it beautifully and landed a strong right hand.
Another followed to floor Yarde and, while the challenger was able to get up, he looked back at his corner, clearly in two minds about whether to continue.
The referee allowed the fight to continue but Yarde's coach Tunde Ajayi quickly made the decision to wave the white flag as Beterbiev bared down on his fighter.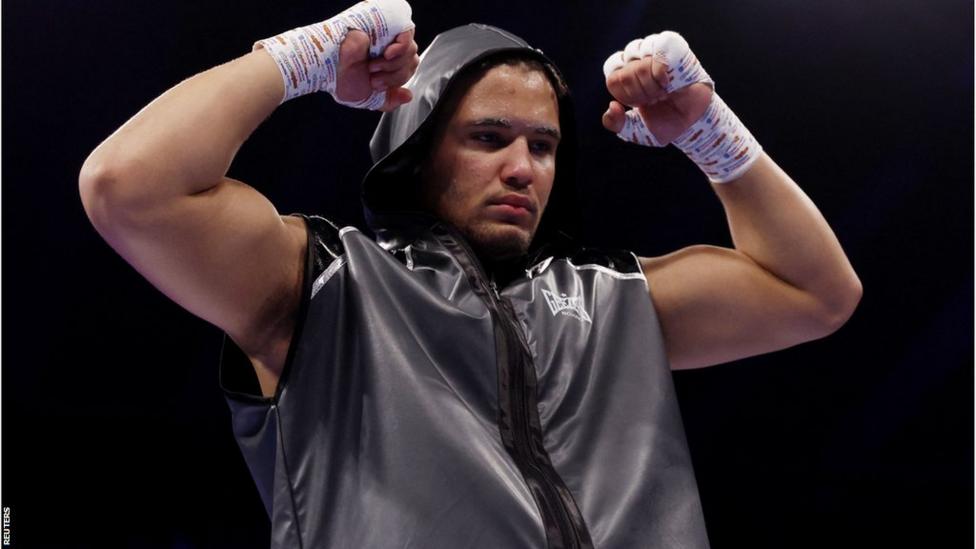 Mixed night for Itauma brothers
Karol Itauma fell to his first pro defeat against Ezequiel Osvaldo Maderna in a big shock on the undercard.
Itauma and his brother Moses Itauma were considered the chief support to Yarde with the siblings fighting on the same card for the first time in their fledgling careers.
Karol was a big favorite in a fight for the WBC international light-heavyweight title, but gave off warnings of a potential off night in the works from the first round as he was continuously tagged by rights from Maderna.
After being wobbled in the fourth round, Argentina's Maderna made him pay with a simple straight left-right combination in the fifth that floored Karol.
Moses restored some joy to the Itauma family when he took all of 14 seconds to stop Czech Republic's Marcel Bode later in the night.
It marked a brief but successful introduction to the pro ranks for the 18-year-old sensation, who is aiming to become the youngest heavyweight champion in history.
Mike Tyson currently holds the record of having won his first world title aged 20.