COLUMBIA, Mo. — Missouri quarterback Brady Cook didn't flinch during his coach's offseason shopping trip through the QB market.
Tigers coach Eli Drinkwitz made it clear he wanted to add experience to the depth chart this offseason and eventually landed 24-year-old transfer Jack Abraham, adding the veteran to a group that returns Cook and redshirt freshman Tyler Macon.
"I figured they were going to add another quarterback just with how many quarterbacks we had in the room," Cook said Sunday. "That was to be expected. I thought me and Tyler, we processed it well."
Now comes the competition. Abraham's addition, plus the arrival of four-star prospect Sam Horn, ensured a four-man battle would command the spotlight for Drinkwitz's third preseason camp. The Tigers hold their first practice Monday morning, exactly one month before the season's first kickoff Sept. 1 against Louisiana Tech.
How long until Drinkwitz and quarterbacks coach Bush Hamdan settle on a starter? Maybe the answer reveals itself in a week. Maybe two. Hamdan hopes it's a grueling decision.
"I think right now you've got to at least look at the first two weeks of (camp) and really try to give everybody their opportunity to roll with (the first unit)," said Hamdan, who moved from coaching receivers to quarterbacks. this offseason. "From where it goes from there, sometimes the sooner a decision can be made, the better it is to have a two-week build-up, a week build-up and so on so forth. But the real truth about it is we just don't know. Somebody's going to separate themselves. When that'll be, we're not sure. And in some ways, you really want this thing to be as hard as possible because then you feel you've got multiple guys to go in and win games."
If indeed all four are legitimate candidates to win the job, managing their practice snaps figures to be a challenge. It's difficult to give all four ample playing time with the first-team offense.
"There's only so many reps you can get, right?" Hamdan said. "Because when you look at it, you've got to be smart with the perimeter guys, you've got to be smart on both sides of the ball and build them up the right way. Everything's going to be evaluated. Every drill, every routes on air, one-on-ones, and obviously an emphasis on the team stuff."
For Cook, his third preseason camp is a continuation of the progress he showed in his first career start, last year's Armed Forces Bowl, when he led the Tigers to a go-ahead touchdown drive in the final minutes, only to watch Army kick the game-winning field goal as time expired. The next day, junior Connor Bazelak, the team's starter in 19 games over 2020-21, entered the transfer portal and soon resurfaced at Indiana.
Among the four camp contenders, Cook has been at Mizzou the longest. He's unsure how the snaps will unfold over the next month.
"You know what, I just go out there on Day One and go where I'm supposed to," he said. "I wish I knew."
"I'm kind of through with all the little things like that," he added. "At this point, it's do or die. It's go out there and make plays, go where you're supposed to. Reps are reps."
While Cook (Chaminade Prep) and Macon (East St. Louis High) split snaps during spring practices, Drinkwitz pursued most of the high-profile Power 5 QBs in the transfer portal. Three prominent targets chose elsewhere — Jayden Daniels (Louisiana State), JT Daniels (West Virginia) and Gerry Bohanon (South Florida) — but Drinkwitz found an experienced arm in Abraham, who's now learning his seventh different playbook in his seventh college season. He started parts of three seasons at Southern Mississippi and spent last year at Mississippi State before suffering post-concussion syndrome from a summer workout collision.
"Extremely mature, and he's been coached extremely well," Hamdan said. "Great work ethic. He's a guy that can potentially come in here and the moment won't be too big for him and he'll be able to go out there and play well."
Abraham moved to Columbia in June and took advantage of the new NCAA rule that allows coaches to work closely with players during the summer for structured drills, similar to the NFL's OTAs (organized team activities.)
"Thankfully, the OTAs have been huge for me being able to get out there and learn the playbook, which in the past, we haven't had that luxury," Abraham said. "So that was huge. Just getting out there and being able to get my hands on the ball and meet with the coaches. I've also been able to develop chemistry with the guys and the receivers. I feel really good where we're at."
At Southern Miss, Abraham threw 29 interceptions in 27 appearances. He also led the nation in completion percentage in 2018 at 73.1%.
"The position of quarterback is all about decision-making and accuracy," he said. "It's really about getting your team from point A to point B and the end zone. I'm going to do my best to do that and put the guys around me in the best position to win games."
Then there's Horn, the biggest QB of the bunch at 6-foot-4 and 205 pounds. Hamdan could breathe easier a few weeks ago when the MLB draft came and went without Horn getting selected. Some outlets rated the Georgia native as one of the draft's top 100 prospects, but his desire to play college football surely impacted his signability. Now that he's a full-time football player, at least until the spring when he plans to moonlight with Mizzou baseball, what's Horn's learning curve in camp?
"It's steep," Hamdan said, "just with the volume (of plays). He's definitely a guy that's come from an unbelievable high school program. We were fortunate to be around those guys to know how good a job they did with him. But I still think the no. 1 challenge in our situation is not evaluating him with the whole playbook in front of him, but can he go execute a package? Or what does he look like confidence level-wise, when he's managing half the playbook versus the whole thing?"
His new teammates are impressed, especially the old guy in the room.
"He's a good kid, man," said Abraham, who turns 25 in October. "I've been able to get close to him. I'm really excited to compete with him and have a good year with him. … I think the good thing about this quarterback room is that we can all help each other. I bring things that some guys don't. Other guys bring things I don't. I can learn a lot from Brady, Maco and Sam. I'm really excited about this camp."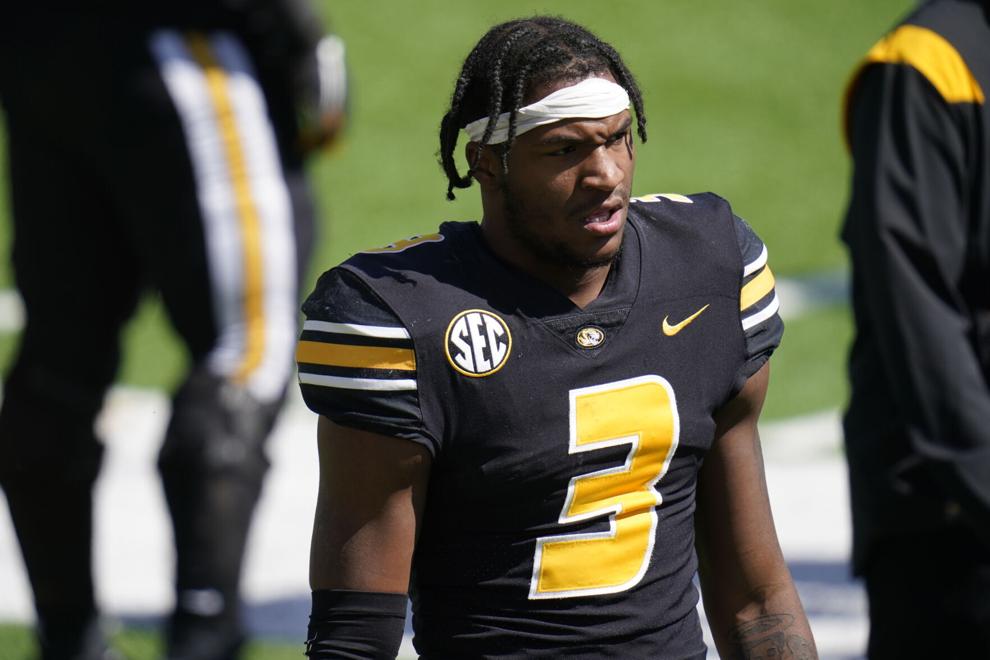 .