You probably thought it after the Braggin' Rights blowout of Illinois. Your belief was reinforced after running Kentucky out of Mizzou Arena. But Saturday was the day we got the definitive answer: Missouri is headed back to the NCAA basketball tournament.
Whether it happened when D'Moi Hodge stopped a mini-run by Iowa State with a three from behind the backboard, or when DeAndre Holston followed it up with a four-point play or on one of Kobe Brown's 12 tenacious rebounds or at some other point, Missouri showed on Saturday it is one of the 68 teams that's going to get a chance to chase a banner over three weeks in March and April.
The Tigers hammered Iowa State 78-61 on Saturday, wearing throwback uniforms in front of a throwback sellout crowd against a throwback opponent. The only thing left was a Tiger team that reminded you of the glory days when guys like Jon Sundvold and Derrick Chievous and Anthony Peeler and Melvin Booker donned the gold M and the little "issouri" on their white jerseys.
That team showed up. And it's been showing up most of the season.
Iowa State—the number 12 team in the country and the leader of the undisputed best conference in college basketball—took a 17-15 lead with 11 minutes left in the first half. Twenty-three seconds later Hodge splashed a three-pointer. Missouri would never trail again.
"We led for 38 minutes and 31 seconds," head coach Dennis Gates said. "They led for 44 seconds."
GET THE INSIDE SCOOP EVERY DAY WITH YOUR PREMIUM SUBSCRIPTION!
All told, the Tigers made 14 threes, dished out 14 assists on 26 made field goals and scored 78 points—more than the Cyclones had given up in regulation to anyone in their previous 19 games. Iowa State came in as the No. 8 team in adjusted defensive efficiency at KenPom and Mizzou shredded the Clones to the tune of 60% shooting and 64 points in the first 28 minutes of the game.
In the final 12 minutes, Mizzou's shot-making slowed to the point it made this a simple blowout rather than an utter humiliation. But the end result was still Missouri's fourth win over a ranked team and a 17-point drubbing of a squad. Dennis Gates said 24 hours earlier he thought could play himself into a No. 1 seed in the Big Dance.
The Tigers won't be that. But they'll be in the field. There is little doubt about that at this point in time.
After Saturday, Mizzou has played six of its eight toughest opponents. The Tigers have played six games against five teams that are in the top 33 of the NET rankings. Only Auburn and Tennessee fit that bill over the final ten games of the regular season. Mizzou has three games remaining against teams with a lower KenPom rating than anyone it has played since December 4th. It has five home games and road chances at LSU, Georgia and Mississippi State.
So, yeah, I know, one game at a time and don't look ahead and all that. That's all well and good for Gates and his players. But what's it gonna hurt for me to look ahead? I haven't taken a shot or made a steal this season. My attitude isn't going to magically rub off on the team through cyberspace.
What I see is an NCAA Tournament team.
"To have a Quad 1 win in January is very important," Gates said. "I think that's a two, possibly one, seed team. For us to have that Quad 1 victory is very important not only on Selection Sunday, but just for us and our growth, to recognize who we are."
Who they are now is pretty good. The coach on the other bench on Saturday thinks it is not who they will be by the time that field is announced.
"They're having a tremendous year and it's only going to continue to get better," Iowa State head coach TJ Otzelberger said.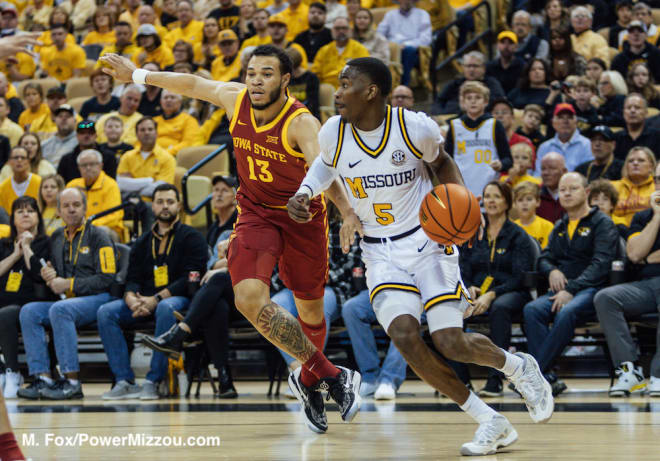 For this program and where it was coming from—12 wins a year ago and just two post-season appearances in the last nine seasons—getting there would be a hell of a step. Nobody predicted that before the season.
But it feels like a foregone conclusion at this point. The next step is improving enough over the next six weeks that the Tigers can do some damage once they're there. By the time the Tigers would play an NCAA Tournament game it will have been at least 4,743 days since Missouri earned the chance to play a second NCAA Tournament game.
The tournament's a crapshoot. But Missouri has already proven it can beat the teams that are going to be playing in it. Iowa State will be there. So will Illinois. Kentucky and Arkansas probably will be too. Mizzou's took them all out this season, three of them in dominant fashion.
Gates has spoken in the long term since he took the job last March. Yes, he wants to win every day. But he has ignored rankings, saying the only one that matters comes out after the season. He has passed on praising his team effusively after its best games of the year, saying he will assess the performance when the season is over. He did it again on Saturday.
"I don't think we played well to be honest with you," Gates said to a round of chuckles from the room. "You guys laugh. I'm serious. I have a different expectation for myself, my staff and for our players. It's not result based. It's the quality.
"We have to do it short term, we have to do it long term."
The short term is happening. Gates has the Tigers pointed towards the tournament and his name in the conversation for conference and national coach of the year honors. By long term, Gates doesn't just mean March Madness 2023. But that's the next step. And it's one Missouri's going to take. There's not much doubt at all. If you weren't sure, they proved it on Saturday afternoon.
Stay up to date on all the Mizzou news with your premium subscription
Talk about this story and more in The Tigers' Lair
Make sure you're caught up on all the Tiger news and headlines
Subscribe to our YouTube Channel for video and live streaming coverage
Everyone on here already has insurance (or they should). Everyone on here also cheers for the Tigers (or they should). In college sports the hot button issue is NIL. A school can no longer compete the way they did just a few short years ago without a robust NIL collective. In our economy, the hot button issue is inflation. Here's your opportunity to see about saving money on something that the state requires you to have on your car and your lender requires you to have on your house. Oh and by the way, just a quote from James' office will get a donation on your behalf to Every True Tiger Foundation, one of Mizzou's NIL initiatives. Blink if you like saving money. Blink twice if you want to do everything you can to position your favorite college program to be as competitive in the SEC as possible. Give James' office a call at 314-961-4800 or get a quote online at carltoninsurance.net.
"If your insurance costs a leg and an arm, call James Carlton State Farm."